DOING Waste tire pyrolysis machine can recycle and transform waste tyre into oil, steel wire and carbon black. Due to practicability and high efficiency, DOING waste tire pyrolysis machine projects have a good reputation among customers. Now, more and more investors aim at this profitable tire pyrolysis recycling business.
Henan DOING Company provides 3 types of waste tire pyrolysis machines for customers to choose, including mobile skid-mounted type, batch type and continuous type. They can process 0.5-50+ tons of tyre waste per day. And they have different advantages. See the following introductions and get the suitable one to start your business.
3 Types of Waste Tire Pyrolysis Machines For Sale – Mini & Small & Continuous
1. Mobile skid-mounted Tire Pyrolysis Machine
DY-0.5 mobile skid-mounted tires pyrolysis machine can process 0.5-2 tons of waste tyre per day. Although it is mini small type, its function is overall like bigger scale pyrolysis machines. It is easy to be moved to other places. If customers need changing the area, this type is a good option.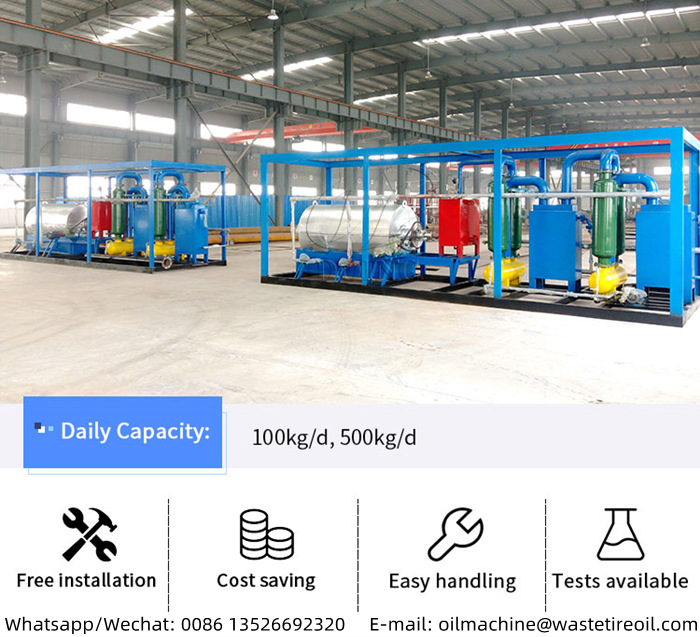 Mobile skid-mounted Tire Pyrolysis Machine
Features: Mobile skid-mounted tire pyrolysis machine has a tight structure, which helps to save the land. Because of its high density, it is convenient to transport and install. It just needs one 1*40HQ container to pack this mobile skid-mounted type tire pyrolysis machine. And it requires little work for the installment. Beacuse 95% of installation work is finished at the manufacturing factory by DOING Company. When set-up in your local, there is simple work to do, for example, pipeline connection. Finally, the installation cost will be largely reduced.
2. Batch Tire Pyrolysis Machine
DOING batch type pyrolysis machine can process 1-15 tons of waste tires per day. There are many safety devices and environmental protection devices to guarantee safe and stable operation, for example, thermometer, pressure gauge, all kinds of safety valves, exhaust gas purification system, water film desulfurization, etc. It needs cooling after a whole pyrolysis production process. It's the popular and cost-effective choice of most customers.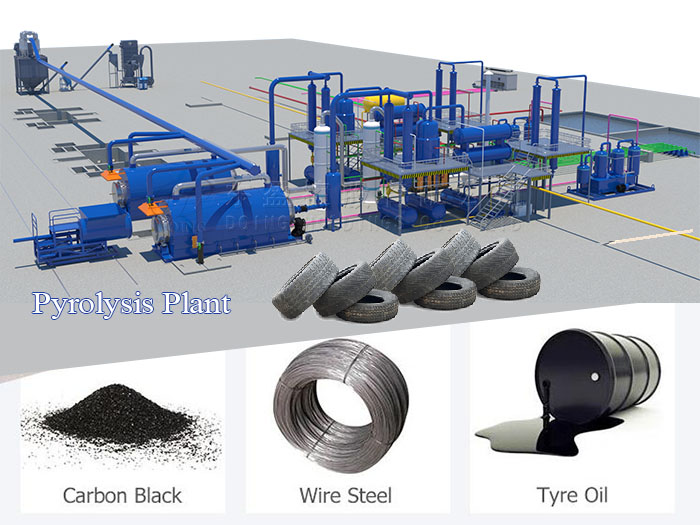 Batch Tire Pyrolysis Machine
Features:The whole waste tire pyrolysis machine production line is easy to clean and maintain. And it is easy to feed the waste tire raw materials and to discharge the carbon black. The oil output rate is high and the oil quality is good.
3. Continuous Tire Pyrolysis Machine
DOING Continuous tire pyrolysis machine can work for about 2 months within 24 hours continuously, running in fully sealed and safe working condition. It has high automation level. When discharging, there is no need to stop cooling down. The processing capacity of continuous tire pyrolysis machine is between 15-50+tons.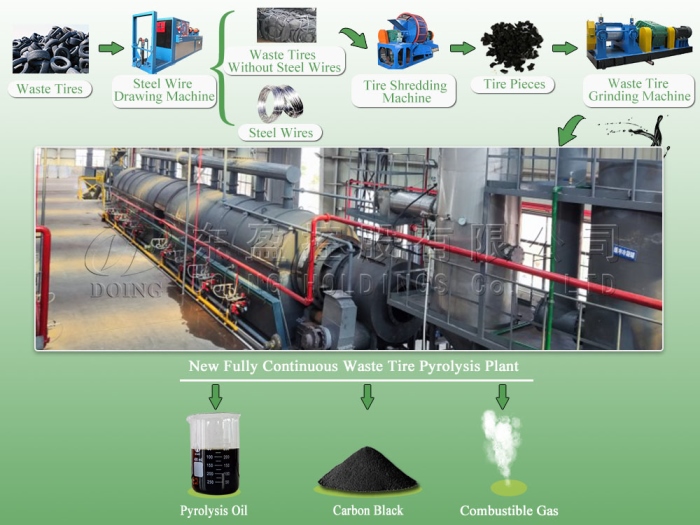 Continuous Tire Pyrolysis Machine
Features:The whole project has high-level automation, which requires little labor. The energy consumption is low because of high-temperature feeding and gas oil utilization. This machine is eco-efficient, which combines advanced technology, full configuration, and long service life.
When you plan to establish waste tire pyroylysis plant projects, consult us for high quality waste tire pyrolysis machine and a good business plan. Besides quality machines and affordable prices, we also offer quick delivery and comprehensive service, including customized service, installation, training, online technical support.