How to effectively recycle waste tires has become an important issue in modern urban garbage disposal and resource utilization. Waste tire recycling machine is the key to solving this problem.
The waste tire recycling machines DOING Company have for sale mainly includes the following 6 types:
1. Waste tire pyrolysis machine: it is a device that utilizes waste tires for energy recovery. Pyrolysis machines can convert waste tires into useful resources such as fuel oil, gas and carbon black under high-temperature conditions. The use of waste tire pyrolysis machines can greatly reduce the number of waste tires, and can also reduce environmental pollution. This is currently the best-selling waste tire recycling machine of Henan Doing Company.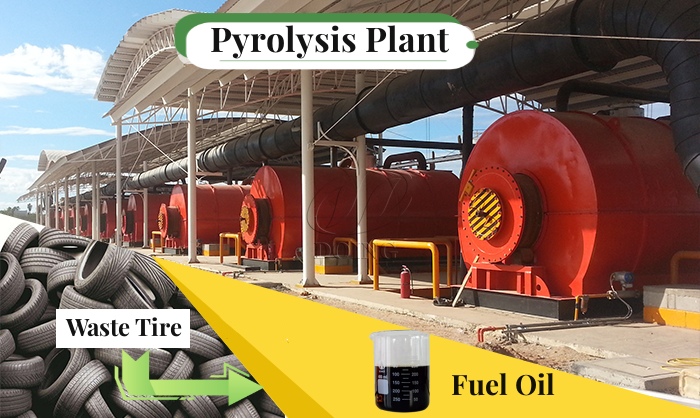 Waste tire recycling pyrolysis machine

2. Tire crusher: its main function is to break waste tires into small pieces. The crusher cuts the waste tires into small pieces through high-speed rotating blades, and these small pieces can be used for reuse or reprocessing.
3. Tire cutting machine: it is a kind of equipment specially used for cutting waste tires. When cutting, the cutting machine will not damage the tire wire, so the waste tires can be reused better.
4. Steel wire drawing machine: it is mainly used to separate the steel wire in the waste tire. Its principle is to make the waste tires rotate continuously through the clamping mechanism, so as to achieve the purpose of separating the steel wire and the rubber.
5. Tire packing&unpacking machine: mainly used to pack 2 or 3 waste tires into 1, or unpack these doubled/tripled tires, which can save the waste tire transportation and occupation space.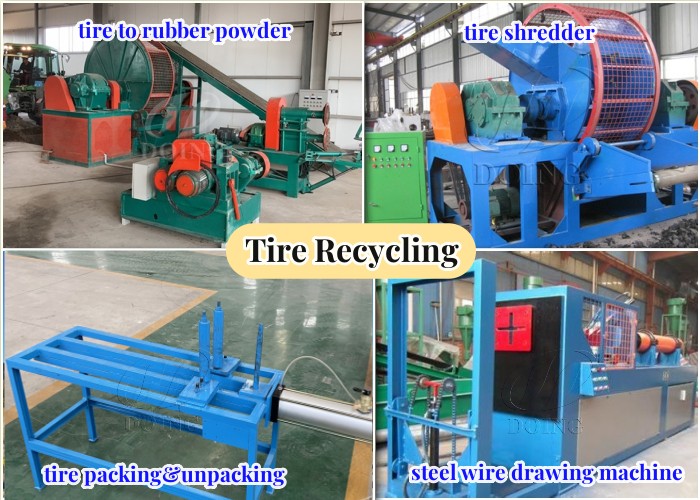 DOING waste tire recycling machines for sale

6. Tire to rubber powder processing line: it is a production line composed of multiple tire recycling machines such as waste tire crushers, grinders and cutters, used to process waste tires into rubber powder.
In short, there are many kinds of waste tire recycling machines, and different equipment has different characteristics and scope of application. When choosing waste tire recycling machines, it is necessary to comprehensively consider the actual situation and needs, and choose the right equipment in order to better recycle and utilize waste tire resources and obtain better economic and environmental benefits.
As a leading manufacturer who can supply you all-around waste tire recycling machines purchasing solutions, Henan Doing Company has helped customers from 90+ countries to develop the tire recycling business. So don't hesitate to send us your inquiries!