Plastic pyrolysis oil distillation machine
Although waste plastic oil has many uses, with the rapid development of the world economy, petroleum resources are becoming more and more important in our lives. In order to further improve the use of waste plastic diesel, which cannot be directly used in engines, expand the application range of waste plastic oil and increase its market value, DoingGroup has designed

plastic pyrolysis oil distillation machine

for sale. The
Plastic pyrolysis oil distillation machine

mainly utilizes the principle of high temperature distillation chemistry to further purify the waste plastic oil and obtain clean and transparent non-standard diesel oil.
Plastic pyrolysis oil distillation machine

working process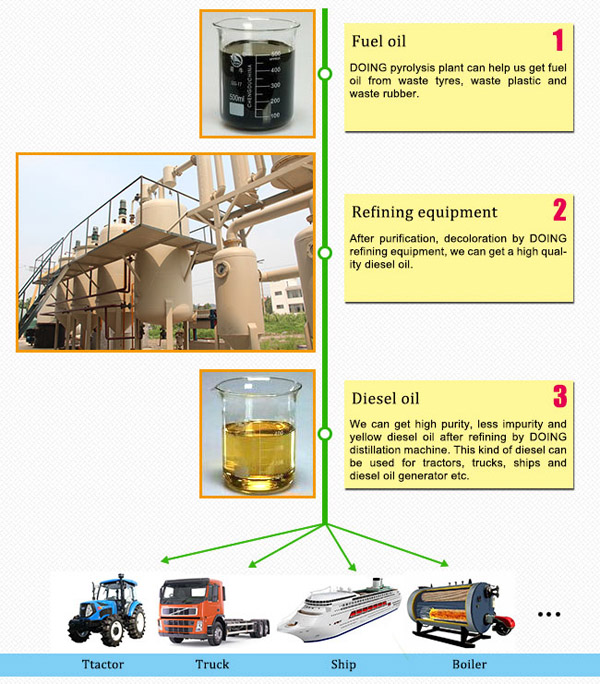 Plastic pyrolysis oil distillation machine working process
A. Oil Pump The waste oil/crude oil/used engine oil/pyrolysis oil is pumped into the distillation reactor by an oil pump.
B. The reactor will be heated by oil, liquefied petroleum gas, natural gas, wood or coal. When the temperature reaches a certain level, the oil will boil and evaporate.
C. Oil and gas will be produced and purified in the distillation column.
D. The purified oil and gas will flow into the condenser and liquefy into light fuel oil.
E. The light fuel is then sent to a deep purification system and a pressure filtration system to remove the pH.
F. Finally, we obtain qualified diesel or gasoline and use it for engines or generators.

Through this
plastic pyrolysis oil distillation machine

process, we can get 80-85% diesel and 15-20% asphalt. The main uses of these substances in life are as follows: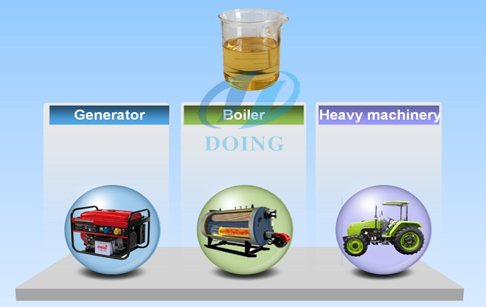 Diesel oil usage
1. Diesel oil: Mainly used for heavy machinery, generators, boilers.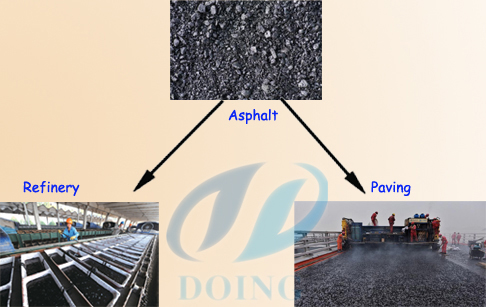 Asphalt usage
2. Asphalt: Mainly used for direct paving, or sent to asphalt plants for further refining.

What are the advantages of DoingGroup's
plastic pyrolysis oil distillation machine

?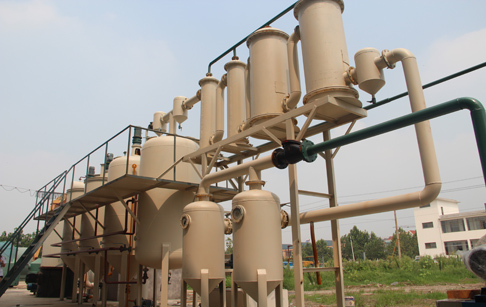 DoingGroup's distillation machine
1. Double heating system, short heating time, high heating efficiency.
2. Operational safety. Our factory is equipped with an automatic alarm system and explosion-proof valve to ensure that the factory works safely.
3. Harmless to the environment. Completely sealed distillation reactors and distillation columns avoid gas leaks. In addition, a three-layer dust removal system ensures that gas emissions meet European pollution control standards.
4. It has a high rate of oil production. Taking waste oil as an example, when the water content is less than 5%, the oil yield can reach 90%.
5. Quality and reliability. All our factories have passed CE, ISO, SGS certificates.

In addition, the DoingGroup's
plastic pyrolysis oil distillation machine

, according to the needs of customers also has two alternative systems:

Rapid heating system

The rapid heating system of the distillation machine uses the circulating heating medium and the fuel to heat at the same time, on the one hand, it can save fuel, and on the other hand it can speed up the distillation speed.

Diesel purification system

The diesel refined from the standard refining system is brownish yellow. If you want to get better color diesel, we can also provide a deep purification system, and finally you can get pale yellow diesel products.

So far, our factory has exported to more than 20 countries, such as Dominica, South Africa, Canada, Peru, Jordan, etc. We have won the good reputation of our customers. Learn more about our
plastic pyrolysis oil distillation machine

, such as plastic to diesel costs, please feel free to contact us.