In the face of increasing plastic pollution around the world, DOING company began to research and develop an effective way to dispose of waste plastic as early as 2010, which is to use pyrolysis technology to design and manufacture waste plastic pyrolysis plant. After years of experience accumulation, waste plastic pyrolysis plant produced by DOING company has been more sophisticated and perfect.
This waste plastic pyrolysis plant can convert waste plastic into pyrolysis oil, carbon black and Hydrocarbon Gas. At present, this method has become an effective way to deal with waste plastics. In many countries, this waste plastic pyrolysis plant has been received a lot of investors favor.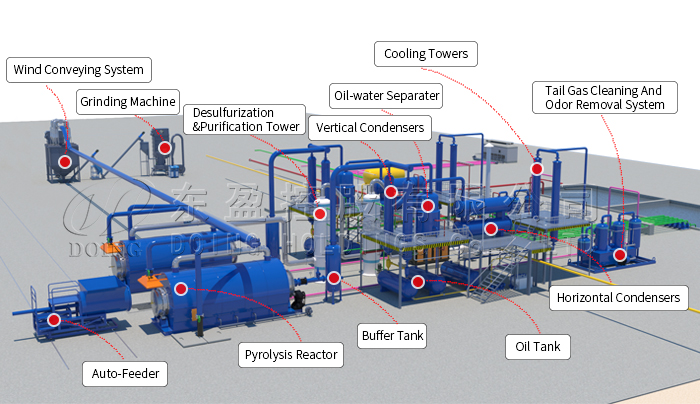 Main components and functions
Auto-feeder

To shorten feeding time;

Can save workers,save time and save energy.

Pyrolysis reactor

Q245R/Q345R materials

pyrolyze waste tire/plastic/rubber in here

Buffer chamber

To reduce oil gas speed and improve oil quality.

Oil-water separator

Avoid oil gas reback to pyrolysis reactor and ensure running safety.

Cooling system

(Vertical condensers and horizontal condensers) better condensing effect to get more oil.

Oil tanks

Collect tire/plastic oil.

Negative pressure device

Guarantee machine working under normal pressure safety;

Shorten pyrolysis time.

Dust removal system

Ensure the smoke emission reach international standard.

Bad smell removal system

Remove bad smell and keep a well environmental working place;

Ensure smell emission reach international emission standard.

Carbon black slagging device

Slagging carbon black automatically;

Environmental protection;

Save time and manpower.
Technological processes of DOING Waste Plastic Pyrolysis Plant
1. Put waste plastics into reactor by transmission device. The reactor is supposed to be left 1/3 space for rotating more smoothly. Then make sure the door of feeding is closed.
2. Heat the pyrolysis reactor gently by burning the fuel material (coal, wood, natural gas, LPG or tire oil generated from last batch). The water vapor will be released when the temperature reached 100℃, then keep it at this temperature until the water evaporates. As the heating goes on, oil gas will gradually be produced(250-280℃ is the top output rate interval).
3. Separate the heavy oil from the heavy oil tank by the manifold through water seal. The light oil gas will rise up to the cooling system and be cooled into liquid oil, and part of the non-condensable gas will be treated by desulfurization & purification tower and recovered to heat the pyrolysis reactor.
4. Cool down the pyrolysis reactor. Then the carbon black can be discharged by carbon black screw conveyor or wind conveying system.
5. Draw out the left little exhaust gas by the negative pressure device to make sure the workshop more safety.
Technological processes of DOING waste plastic pyrolysis plant
Technical parameters of waste plastic pyrolysis plant
No.
Items
Contents
1
Equipment type
DY-1-6
DY-1-10
DY-1-12
2
Raw material
Waste tire
Waste tire
Waste tire
3
Structural form
Horizontal rotation
Horizontal rotation
Horizontal rotation
4
24-hour Capacity
6 ton
10 ton
12 ton
5
Oil yield
2.7-3.3ton
4.5 -5.5ton
4.8 -6.6ton
6
Operating pressure
Normal
Normal
Normal
7
Material of pyrolysis Reactor
Q245R
Q245R
Q245R
8
Thickness of pyrolysis Reactor
16mm
16mm
16mm
9
Rotate speed of pyrolysis Reactor
0.4turn/minute
0.4turn/minute
0.4turn/minute
10
Total power
15KW
15KW
15KW
11
Mode of cooling
Water cooling
Water cooling
Water cooling
12
Cooling area of condenser
100sqm
100sqm
100sqm
13
Kind of transmission
Internal gear drive
Internal gear drive
Internal gear drive
14
Noise dB(A)
≤85
≤85
≤85
15
Size of Reactor(D×L)
2200×6000
2600×6600
2800×6600
16
Working form
Intermittent operation
Intermittent operation
Intermittent operation
17
Delivery time
20days
20days
20days
18
Weight
27T
32T
35T
The applications of products from waste plastic pyrolysis plant
Plastic pyrolysis is a thermo decomposition of plastic polymer, since waste plastic are long chain polymers containing more than 50,000 carbon atoms attached to each other in a cross linked or straight chain. After processed by waste plastic pyrolysis plant, you can get fuel oil and carbon black. The following are the applications of final products from waste plastic pyrolysis plant.
Applications of final products from waste plastic pyrolysis plant
Henan Doing Company, the top-rated pyrolysis plant supplier in China, has gained rich experience to provide the best waste plastic pyrolysis plant for investors. You are welcomed to contact us for more detailed information about the waste plastic pyrolysis plant. We will offer you the specific list of waste plastic pyrolysis plant and quote the latest price of waste plastic pyrolysis plant.