Henan Doing is specialized in waste to oil pyrolysis plant for many years, our renewable energy equipment include plastic to oil, waste tyre recycling pyrolysis machine, waste plastic to oil pyrlysis machine, used motor engine oil refining plant and oil purification device. DOING company has obtained certificates of ISO CE,SGS,EPA,BV etc for these machine.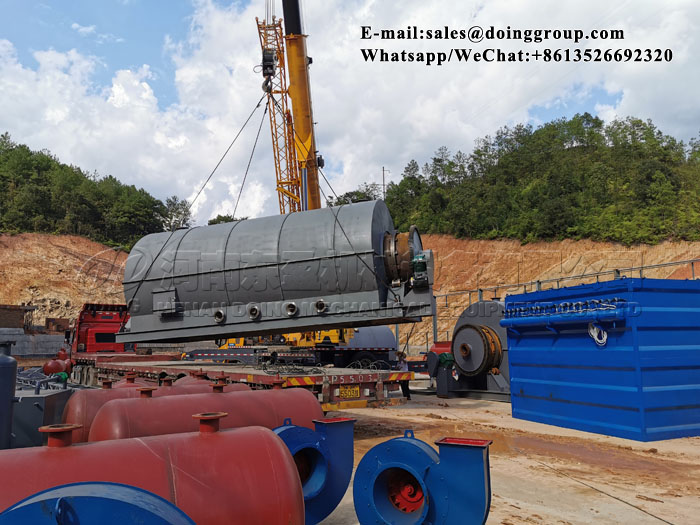 Waste tyre to oil pyrolysis plant
Quick question and answer about DOING tyre to oil pyrolysis plant:
1. How to process the by-procuct carbon black?
Make carbon black to briquette which has 4000-5000 kilocalories or processed into pellet.
2. If the tire crude oil quality can't meet our local demands, what can we do?
Tire oil can be further refined and get tire diesel which are the yellow color very clean energy.
3. How to process the waste gas/pyrolysis gas from inside reactor?
We have the professional system to reuse the pyrolysis gas back to the heating system to burn save your fuel cost.
4. Does your machine can also pyrolysis waste plastics?
Yes, it can pyrolysis waste plastics and waste tires, waste rubbers. But remember never mix plastic and tyre together, process them separately.
5. Can I see your real working running machine?
Yes, you can come to our big running plant factory to see its working. Please contact with me then we can arrange it in advance.
6. How many labors need for this plant?
Our machine are highly automatic, usually 2 workers.
7. Does your machine pollute the environment?
Our machine has different and higher technology dust removing system to guarantee the emission from the chimney has no any pollution. If you wanna know more about this, please email us freely.
8. How long the whole process needed?
Around 16-18 hours (including loading raw material, heating reactor, oil come out, carbon black discharging, steel getting).
9. What kind of certifications your company have?
CE, ISO, BV, SGS,EPA