DOING Machine to recycle motor oil into diesel plant can convert waste tyre oil, waste plastic oil and waste engine oil to clean diesel oil. This kind of diesel can be used for trucks, tractors, and diesel oil generator etc. The oil recovery rate can be 85%-90%.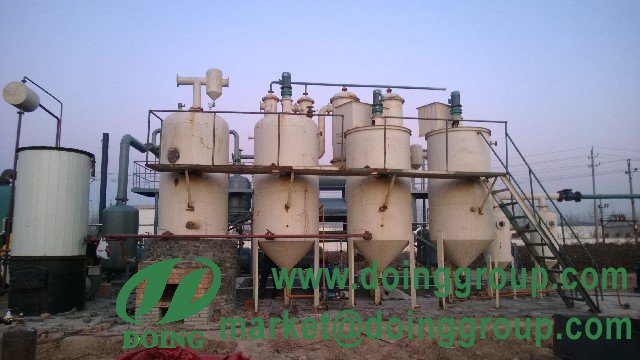 Machine to recycle motor oil into diesel plant
During the operation, safety is the most important factor in the whole process. We had successfully researched some safety devices which ensure the machine
working safely. Such as, the safety valves, alarming device and the pressure gauge, vacuum system etc.

1. Safety:
Safety is probably the most essential element in the entire process. We had successfully researched some safety devices which assure the machine can function safely. For example, the security valves, alarming equipment and the stress gauge etc. If the interior of the reactor produce some pressure, the alarming device will ring automatically, even no response from worker; safety valves will decompress the strain automatically. The equipment guarantees no accidents? Workers shall operate normally and examine pressure gauges, alarm and safety valve pipe flow regularly. To make sure safety in processing, the shift workers are not free to their posts. We also have oil-water separator which usually can quit the oil gas recycle to the reactor, which can prevent the accident.

2. High level of automation:
Feed the waste oil, crude oil automatically, to pump oil automatically.

3. Guarantee with after service:
Selling devices not for selling only, but to help you approach to success. Quality and service is our commitment and responsibility. Your success is our biggest wishes.

4. Environmental protection:
a Environmental protections include four parts, water, slag, gas, sound.
b. Energy saving: recycling of exhaust gas and scientific fire channel design could save energy and thereby reducing costs.

5. Long life:
Hot-blast stove is very long life, but not power saving, its consumption of energy is much greater than repair costs of furnace. Direct fired reactor is energy-saving but short life. It is contradiction. We resolved this conflict by thickening steel plate reactor of fireplace approach part which is oxidized extremely, so we generally use the 14mm,16mm,18mm thickness of steel plate, or 12mm,14mm thickness plate, not only power preserving, but also long life.

6. Low cost:
All costs are low simply because of being situated at the suburbs. Advanced and comprehensive processing equipments, nearly no external processing and customer interests oriented business philosophy; it stands to reason that the price is low.