The shining plant in below picture is Waste Oil Distillation Plant, this one is 10ton capacity, the master piece of Henan DOING Mechanical Equipment Co. Ltd, which is among the best sellers during year 2014.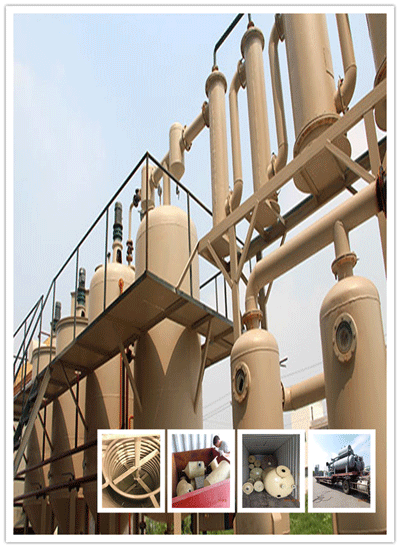 waste oil distillation plant
Generally as its name expresses, waste oil distillation plant is specializing in pyrolysing waste oil to diesel oil under normal pressure. The machine can contain about 5-100 tons of waste oil-waste engine oil/motor oil/plastic crude oil/tire crude oil, and run about 23 hours continually within one day with around 2 people observing. The valuable output is diesel oil, and available for engine with national standard oil.

Compared with Tire/Plastic Pyrolysis Plant.Waste oil distillation plant is also composed of over one thousand components with different sizes, some are large, otitss are precise. Among the large units, most are patented products. What is more, she is qualified with BV, CE, ISO, and SGS, proving its safety and quality insurance. Safety and quality issues are always the most concern of Henan DOING Mechanical Equipment Co., for every worker' life is incomparable.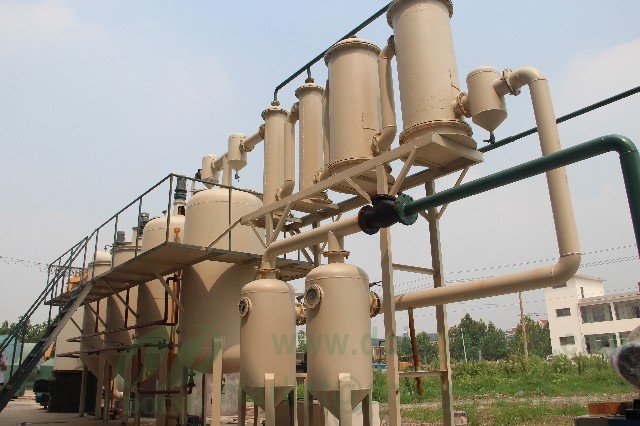 5ton waste oil distillation plant
Features of waste oil distillation plant:
Without doubt, waste Oil Distillation Plant was born with a large number of unparalleled edges. Security, it is employed with at least three large safety device, which are connected with the reactor and cooling system, in order to prevent syngas from going back to the reactor causing accidental explosion; besides, some safety valves are operating togetits with the alarms to keep the reactor running under normal pressure in case the workers were absent of the site. Energy-saving, used circular water from the cooling system and syngas both can be recycled to save a lot of fuel energy and clean water, thus reducing a large amount of cost for clients. Environmental friendly, chemical water is used in dust-removing system to cleanse the smoke until it turns into steam, and waste water from the cooling system and syngas from burning processing both can be recycled to the reactor and go back to the cooling system, such as heating the reactor and run as circulating cooling water again; so far, air and water pollution are avoided.