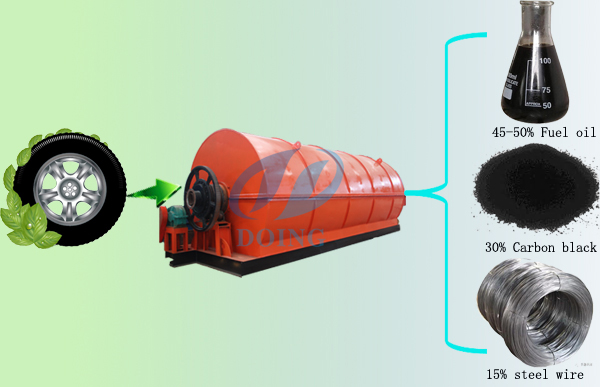 DoingGroup's waste tyre pyrolysis plant
The DoingGroup's waste tyre pyrolysis for fuel oil utilizes the principle of pyrolysis chemistry. Now that the technology is very mature, it is the best way for you to treat waste tires. Through the waste tyre pyrolysis for fuel oil production you can get 45-50% fuel oil, 30% carbon black, 15% steel wire, and 5% combustible gas. These substances have a very large market in life, especially fuel oil. Through the waste tire cracker, not only can you solve environmental problems, but you can also get a new batch of materials that can be sold and bring you considerable benefits!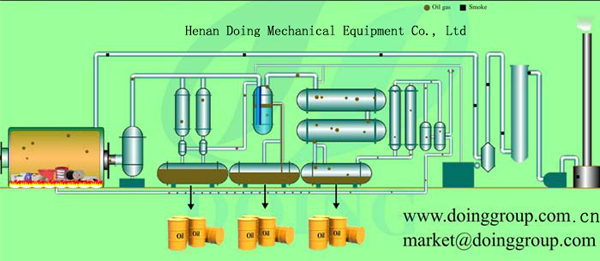 Waste tyre pyrolysis plant working process
Waste tyre pyrolysis for fuel oil production specific process:

1. The waste tires are sent to the reactor through an automatic pushing device and the reactor is heated.
2. Heat the reactor with coal, charcoal, gas, wood, etc. The reactor is heated slowly. When the temperature reaches around 200°C, oil and gas will form.
3. Oil and gas will come out of the reactor and then enter the condensing system into liquid oil.
4. The gas that cannot be liquefied under normal pressure is sent back to the combustion system through the safety device. It can be recycled to heat the reactor as fuel, which will save energy for the entire process.
5. After the oil production is completed, the temperature of the reactor will decrease. When the reactor temperature drops to 40°C, the carbon black will be discharged from the underground sealing device of the pyrolysis device to avoid secondary pollution to the environment.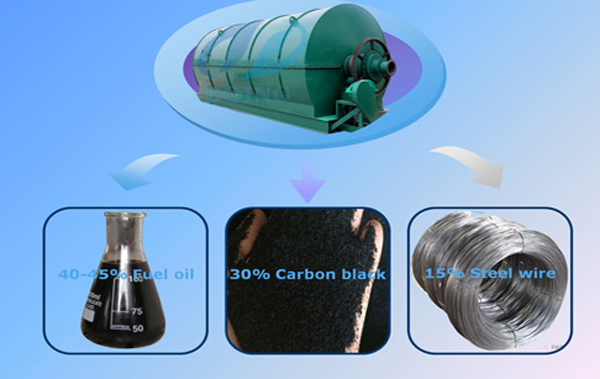 Waste tyre pyrolysis plant final products
Through waste tyre pyrolysis for fuel oil production process, four final products, fuel oil, carbon black, steel wire, and combustible gas can be obtained.

1. Tyre oil: This is the first production of pyrolysis tires to oilers. It can be used in steel plants, boiler heating, heavy oil generators, cement plants, etc. You can purify it with DoingGroup distillation machine to get non-standard diesel fuel that can be mixed with gasoline in a proportion to be burned by the vehicle.
2. Carbon black: It can be sold directly at a certain price. You can reprocess it into high-quality carbon or carbon bricks.
3. Steel wire: It is also the main final product from the tire to the oil mill. You can get it through the Doing Group's steel wire drawing machine and sell it directly to make money, or to make it into steel by hydraulic press.
4. Combustible gas: Can be used as fuel. For example, you can use it to heat the reactor; you can also use it as a fuel for industry and agriculture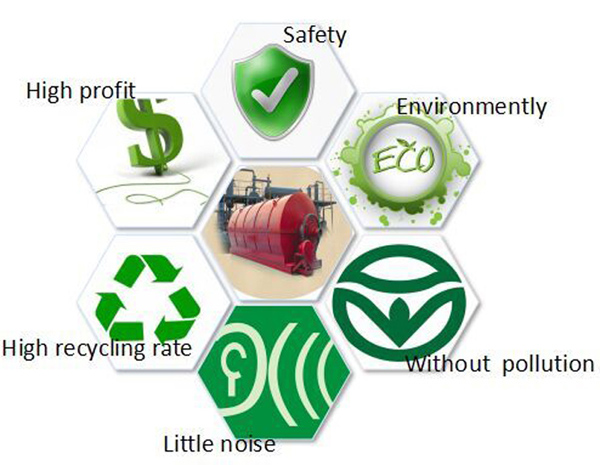 DoingGroup's waste tyre pyrolysis plant advantages
DoingGroup's waste tyre pyrolysis plant has obvious advantages for recycling waste tire fuel oil:

Safety:
1. Automatic welding, improve work efficiency, ensure machine quality, avoid accidents.
2. Special design to avoid paper jam caused by X-ray inspection and ensure safe operation.
3. The vacuum system ensures that the entire production line runs well.
Environmental protection:
1. Dust removal and sulfur removal system to remove smoke and sulfur.
2. Exhaust gas (including methane to butane) will be directly recycled to the fuel furnace without gas pollution.
High oil yield:
Three cooling processes ensure that the oil and gas are fully liquefied.
2. The catalyst chamber ensures complete pyrolysis of the feedstock.
long lasting:
1. Special boiler plate: Q245R with a thickness of 16mm.
2. Automatic welding ensures the service life of the machine and the service life will reach 8-10 years.
Energy saving:
1. The heating system is well-sealed, airtight, and fuel-efficient.
2. Exhaust gas will be recycled for reactor heating.
Good after-sales service:
1. Overseas tour guides install and train customer staff and try to run.
2. One year warranty.

In fact, the DoingGroup's raw materials for the treatment of waste tyre pyrolysis for fuel oil are not just waste tires. He can also be used to dispose of waste plastics, waste rubber, sludge, and other solid organic materials. Truly reach the concept of multiple uses of a device, and can bring you a huge income!