Pyrolysis plant is also named waste pyrolysis to oil machine, pyrolysis machine,pyrolysis equipment etc. It is mainly dispose waste tyre, waste plastic and waste rubber to fuel oil, carbon black and steel. The waste tyre oil yield is about 45%-52%. Plastic is about 20%-95%. Different waste material has a different oil yield output.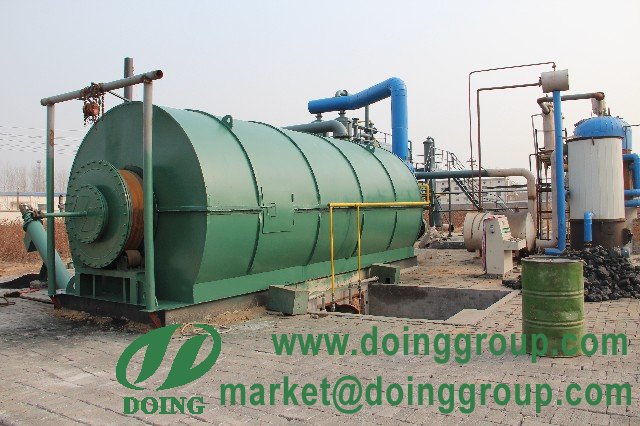 Pyrolysis plant
Some Feature of Pyrolysis plant:

1. No need to shred/cut bog tyres, with auto feeder, workers can feed whole tyres directly.

2. Double feeding doors, the bigger one for feeding tyres, smaller one for feeding plastics.

3. Double catalyst chamber, with molecular sieve, it can absorb impurities, in this way avoid congestion and improve oil quality. Besides, big catalyst chambers could reach double effect of catalytic, decrease pressure and remove the dust from the oil gas.

4. Two horizontal condensers instead of 5 vertical condenser, and also the volume of one horizontal condenser can be equaled with 3 vertical condensers. Besides, the length has twice, so cooling effect will be better, in this way oil output can be guaranteed and raised.

5. Another two length cooling pipes, the cooling area can be equaled with one vertical condenser, in this way, the cooling result will be better than our forth generation.

6. Double anti-back fire device and two long cooling pipes. Double anti-back fire device will be more safety, and also make full recycling tail gas. The two long pipes can be equaled with one vertical condenser, it will cooling down the tail gas again, guarantee oil output.

7. The exhaust gas, it is white without any pollution, even if you put a white towel on it, you can not see any black. It can meet the emission standard of International required.