Better Diesel Extraction!!! waste tyre pyrolysis plant,pyrolysis plant without sulfur
| | |
| --- | --- |
| Waste tyre pyrolysis plant | Waste tyre pyrolysis plant without sulfur can convert waste tires, waste plastic, waste rubber to fuel oil, carbon, steel wire. Waste tire oil average rate is 45%-52%, plastic is 75%-95% for PP,PE,ABS etc. |
| | |
| --- | --- |
| Oil distillation machine | Oil distillation machine can process waste engine oil, motor oil, black oil, tire oil, plastic oil to clean diesel. This kind of diesel can be used to tractors, trucks, diesel oil generator, power generator etc. Oil recovery average rate: 75%-90%. |
Waste tyre pyrolysis plant without sulfur working pinciple description briefly
Firstly, the raw material was put into furnace with auto feeder,thenseal the feed inlet system.
Secondly, burned the fuel material (coal, or wood, or natural gas, oil ) in the combustion system .The reactor will slowly heat, when the temperature reach around 150 degree Celsius, it will produce oil gas .
Thirdly,Oil gas will be processed by our technology ,then gone to cooling system to cold liquid oil. The gas which can not be liquid under normal pressure ,which will be designed to back to combustion system to instead the fuel material to burn the reactor .which can save energy very much.
Fourth,After finished oil produce ,the temperature of reactor will be down ,in same time ,carbon black will be discharged automatically.
Fifth, when the temperature fall to 100 degree Celsius, worker could opened the door of reactor to discharge of steel wire .
Last, Then can start to another batch working.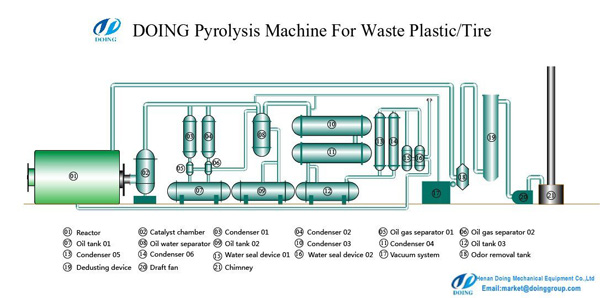 Flow chart of waste tyre pyrolysis plant process
Waste tyre pyrolysis plant without sulfur Main Parts:
The main components of Waste tyre pyrolysis plant without sulfur:
Auto-feeder - To shorten feeding time; feed more raw material; save workers,save time,save energy;
Pyrolysis reactor - 16mm Q245R boiler plate, welded by auto-welding technology with three-step welding to make sure the welding of pyrolysis reactor is perfect;
Buffer chamber - To reduce oil gas speed and improve oil quality;
Oil-water separator - Preventing the back flow of oil gas,, ensure running safety;
Cooling system (Vertical condensers and horizontal condensers) - Cooling oil gas into fuel oil, three step cooling system can get fully cooling effect and high oil yield;
Oil tanks - Collect fuel oil.
Vacuum device - Provide negative pressure to the system thus to keep safe operating pressure;
Tail gas cleaning system - Purify the uncondensable but combustiable tail gas, remove the bad smell and can be collected to heat pyrolysis reactor to save fuel;
Smoke cleaning system - Smoke produced in the fuel combustion can be treated by smoke cleaning system and meet the national gas emission standard.
Carbon black slagging device - Slagging carbon black automatically, saving time and workers;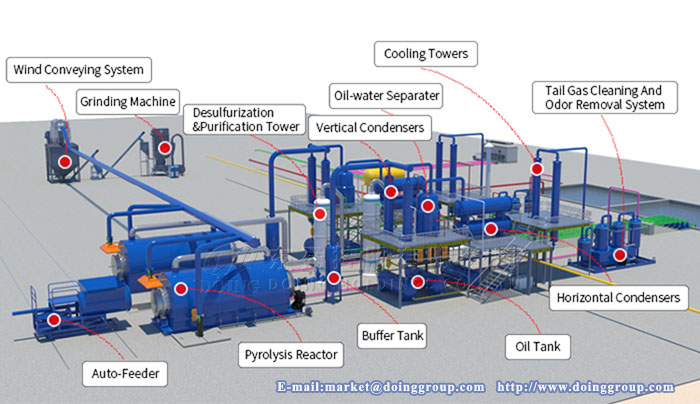 waste tire pyrolysis plant
Doing Group provides two tyres of waste tire pyrolysis plant: batch waste tire pyrolysis plant and continuous waste tire pyrolysis plant, the capacity is between 100KG and 50T, the oil yield can reach 45%. For more information, welcome to consult us.